Hej, och god fortsättning på Er,
Idag tänkte jag visa Er min planner från Prima. Jag har en A5 planner som heter Breathe och jag älskar den. Jag har valt att köra ett tema/färg per vecka, för att den inte skall bli allt för spretig och för att jag skall ha nån tanke bakom från första till sista sida. Jag har tänkt att visa Er ett blogginlägg i månaden med min planner.
Här är utsidan på min A5, jag bara älskar det vita med svarta prickar.
Hi everyone, hope you have a great 2018 so far,
Today I want to show you my planner from Prima. I have an A5 planner called Breathe and I love it. I have choosed to have one theme/colour a week, to maintaine some control and trying to have thought behind from the first to last page. My plan is to blog my planner once a month this year. This is the outside of it, and I love the white, with the black dots.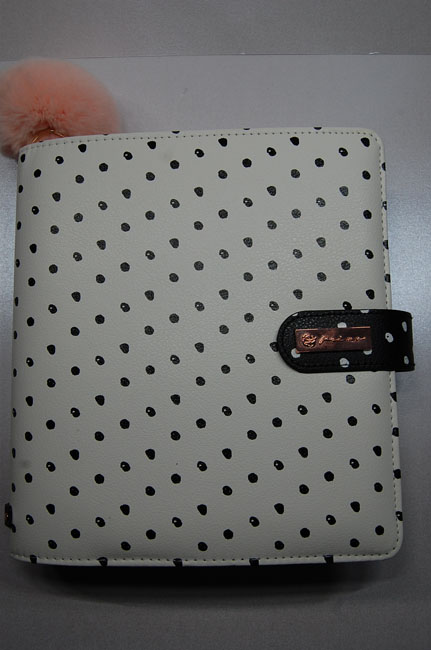 Jag har valt att byta ut månadsflikarna som kommer med, mot en sort som jag har köpt till med dessa fantastiska damerna på, som jag sedan färglägger själv. Denna bild har jag färglagt med Spectrum Noir ColourBlend.
I have choosed to change my monthly inserts, and I´m using a package with theese lovely ladies, which I will colour up myself. This picture I have coloured with Spectrum Noir ColourBlend.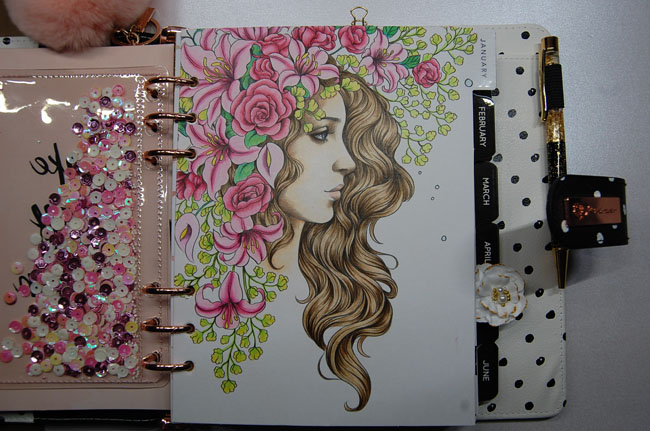 Här är vecka ett och min To Do-list för januari, som går i guld.
This is week 1 and my To Do-list for january, and it´s all in gold.
Här är vecka 2 och 3, och här valde jag turkost, med en massa roligt från Primas Zella Teal.
This is week 2 and 3 and I have choosed to work with turquoise and a lot of products from Primas Zella Teal.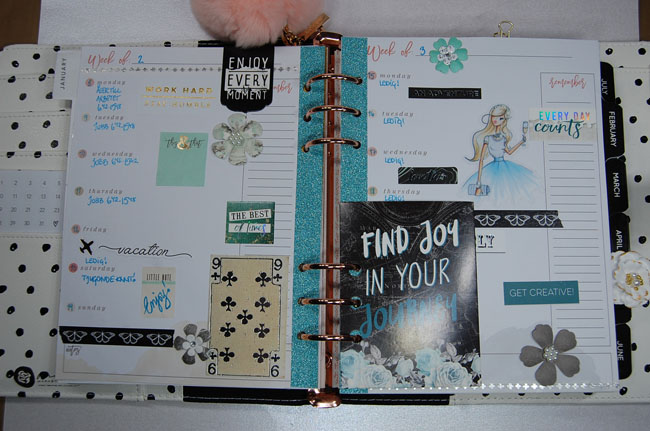 Detta är vecka 4 och 5 och här har jag gått på svart/grått och använt mig av Jane Davenports grejer bland annat.
This is my spread for week 4 and 5 and here I have used black/grey as my colour, and products from Jane Davenport.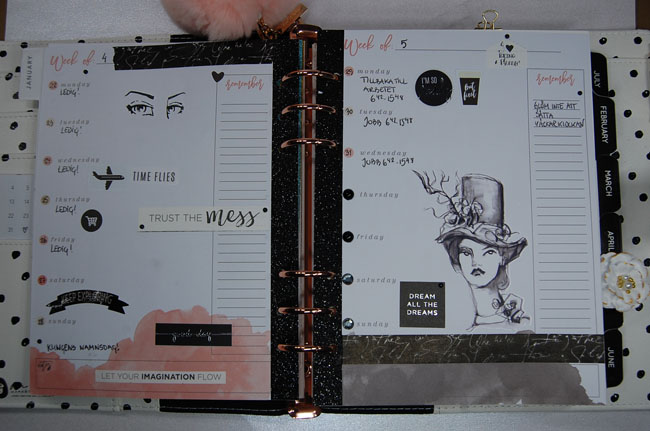 Pennorna som jag har använt mig av för att skriva, är Kaisercrafts pennor, supersköna att skriva med, och ger mycket fin effekt.
Tack för titten, vi ses nästa vecka.
The pens I have used to write with, are Kaisercrafts pencils, really nice to use, and with a wonderful result.
SpectrThanks for stopping by, se you next week.
Materiallista:
Prima My Prima A5 Planner White W/Black Dots -Breathe
Prima Josefina Planner Stickers 2/Pkg – Diamond Girl
Prima Planner Flowers 100/Pkg – Lucy
Prima My Prima Planner Goodie Pack Embellishments – Zella Teal
Prima My Prima Planner Decorative Tape 4/Pkg – Dark Vintage
Prima My Prima Planner Ballpoint Pen – The Cosmos
Prima My Prima Planner Shakers – Frank Garcia Make Stuff Happen
Prima My Prima Planner Hole Reinforcer Stickers – Frank Garcia Champag
Prima My Prima Planner Coloring Tabbed Dividers 12/Pkg – Princess
Prima My Prima Planner Monthly Tab Stickers 2/Pkg
Jane Davenport Mixed Media Rub-Ons 2/Pkg – Neutrals
Heidi Swapp Designer Sticker Book 4.75X8 30-Pages
Kaisercraft Gel Pens 48/Pkg – Pastel, Glitter, Metallic & Neon
Spectrum Noir ColourBlend