Hej!
Hur går det med julkorten? Här pågår det julpyssel för fullt. Jag bara älskar att göra julkort. Till detta kort har jag i bakgrunden har jag spillbitar från Primas Amber Moon och lite gamla boksidor. För att få en snöig och vintrig känsla är det lite gesso på detta. För att förstärka snökänslan har jag några korn av Stampendous Embossing, Chunky Enamel. Värmer man dessa som blir det som lite snöflingor. Mina favoritfigurer- Paperdolls med vintertema får utgöra blickfånget på kortet. Även gnuggat på lite Rubons även dessa i jultema. Dessa har jag gnuggat på lite här och var.
Hi!
I really love this season and  I love creating Christmas Cards.  Hers is a card with papers from Primas Amber Moon. To get the winter feeling I have smooth a little bit gesso on the card. Also sprinkled a little bit of Stampendous Embossing, Chunky Enamel. For my focalpoint, I have the lovely paper dolls.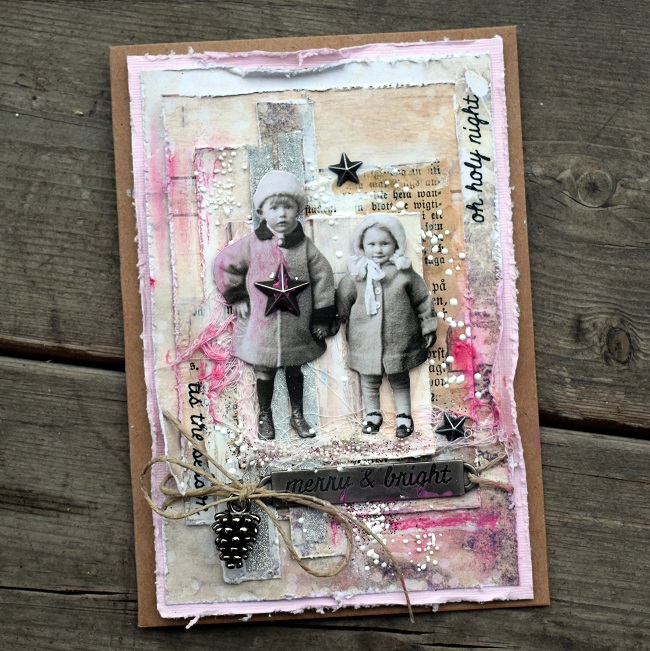 Läckra och behändiga metalldekos med text och med metallstjärnor blir det utsmyckningen på detta kort. Den rosa färgen är från Primas Impasto Paints. Lite snöeffekt har jag fått genom Primas Mini Artstones.
There are a lot of metal decorations to match the dolls and all of them have the Christmas theme. The pink color comes from Primas Pink Impasto Paints. Also sprinkled Mini Artstones.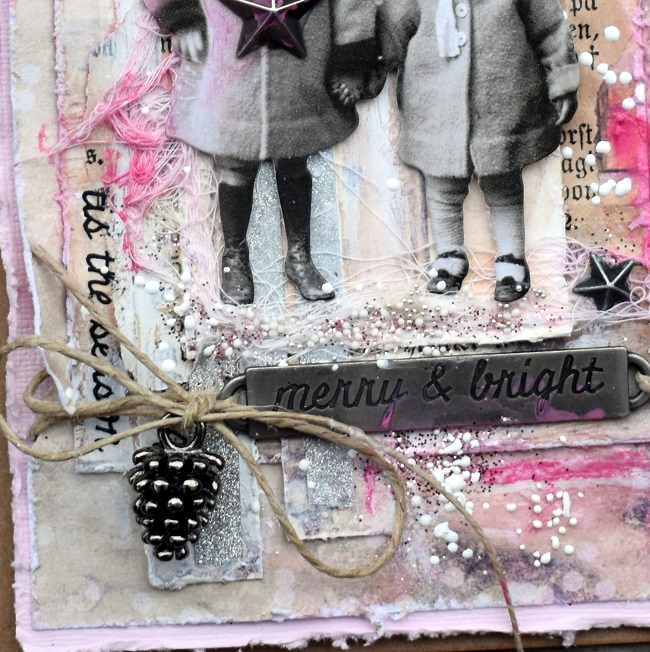 Den fantastiskt söta kotten har jag knutit fast på lite snöre.
A sweet pinecone on a string.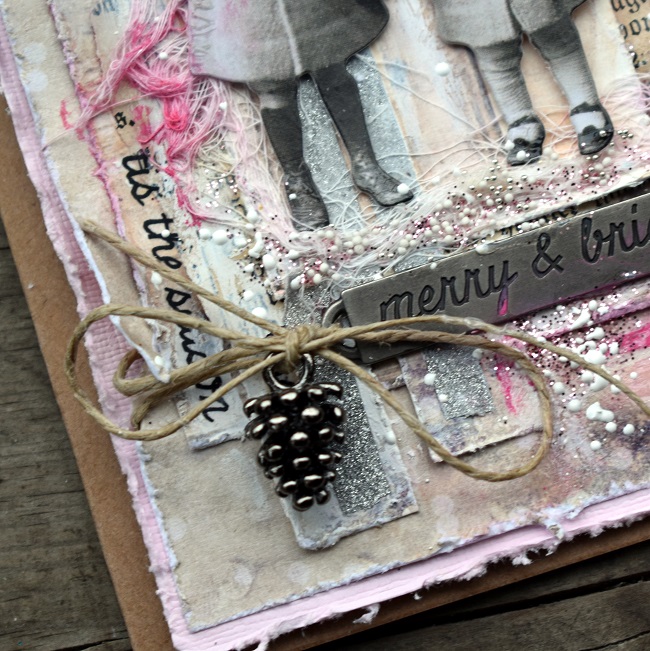 Tack för titten!
Thank you for stopping by.
Katja
Material:
Prima Amber Moon Foiled Double-Sided Cardstock 12X12 – Pumpkins Season
Prima Amber Moon Foiled Double-Sided Cardstock 12X12 – Into The Woods
Prima Finnabair Art Basics Heavy Gesso 500ml – White
Prima Finnabair Art Basics Soft Matte Gel 250ml – Transparent Matte
Prima Finnabair Art Ingredients Mini Art Stones 230ml
Prima Finnabair Art Alchemy Impasto Paint 75ml – Raspberry Pink
Tim Holtz Idea-Ology Paper Dolls Die-Cuts 54/Pkg – Christmas
Tim Holtz Idea-Ology Remnant Rubs Rub-Ons 2/Pkg – Christmas Words
Tim Holtz Idea-Ology MetalWord Bands – Antique Nickel Christmas
Tim Holtz Idea-Ology Metal Adornments 24/Pkg – Antique Nickel Pinecones
Bazzill Cardstock 12X12 25/Pkg FOURZ – Pinkini
Bazzill Cardstock 12X12, 25/Pkg – Classic Craft
Stampendous Embossing Enamel – Chunky White
Övrigt:
Prima Metall stjärnor
snöre
ostduk
boksidor