This year she made her own Halloween Make-up. Scary how well she did it. Youtube is an amazing place to learn new skills.
I år gjorde hon sin egen Halloweensminkning. Wow – hon satte det verkligen! Man kan lära sig allt på Youtube.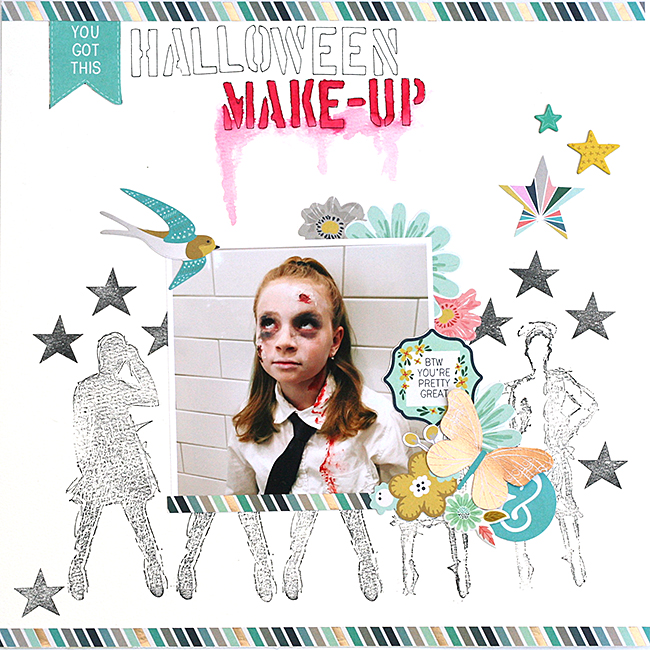 I made a cluster of decorations as cute as she is to mix the scary with some soft touch.
Jag la ett kluster av söta dekorationer bredvid fotot för att skapa en mix av läskigt och sött.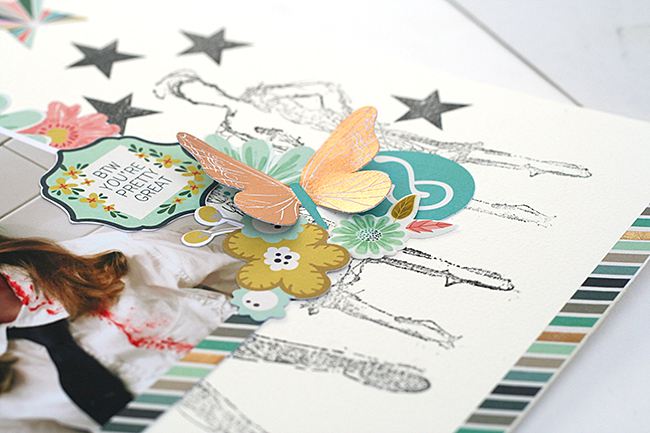 I made the title using a Layered Stencil -Crate – from Tim Holtz. First I traced it with a good pen from American Crafts and then I used Crimson Aqua Pen to make a feeling of dripping blood.I used a Watercolor 12×12 background paper from Prima – love it!
Jag gjorde titeln genom att spåra i en Tim Holtz mask. Sen färgade jag delar av titeln med en röd Aqua Marke Pen (Crimson) från Crafter's Companion och använde en vattenpensel för att få det att droppa som blod. Jag använde ett 12×12 watercolor-papper från Prima som bakgrund – underbart att arbeta med!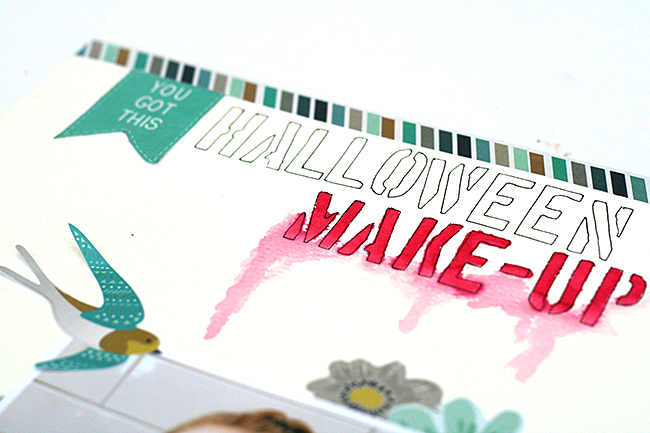 I have stamed using Dina Wakley's lovely Silhouette stamps and mixed stars used by stamping with cupboard stamps and ephemera stamps – all from the Turn the Page collection.
Jag har stämplat med Dina Wakleys underbara siluetts stämplar och blandat stämplade stjärnor med die-cuts-stjärnor och stjärnor i Chipboard, alla från Turn the Page-kollektionen.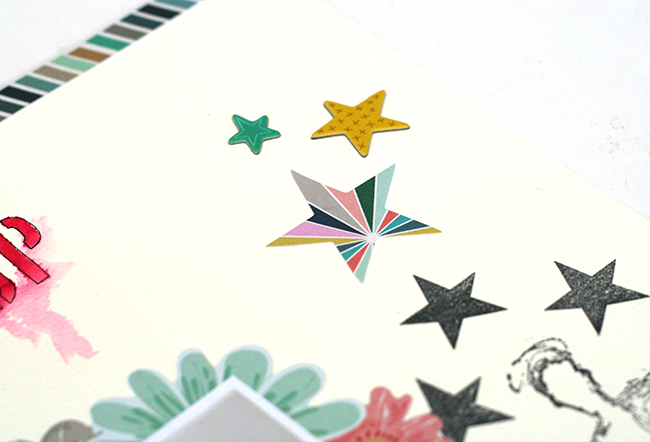 Material:
Prima Marketing – Prima 12×12 Watercolor Paper Pad
Pink Paislee Paige Evans Turn the Page – Paper Pad 12X12
Pink Paislee Paige Evans Turn the Page – Paper Pad 6×6
Pink Paislee Paige Evans Turn the Page – Ephemera Cardstock Die-Cuts
Pink Paislee Paige Evans Turn the Page – Mini Swatch Books 2X2
Pink Paislee Paige Evans Turn the Page – Chipboard Stickers
Pink Paislee Paige Evans Turn the Page – Acrylic stamps
Stampers Anonymous – Dina Wakley – Silhouetted Women
Stampers Anonymous – Tim Holtz Layered Stencil – Crate
Crafter's Companion – Spectrum Aqua Pens – Primary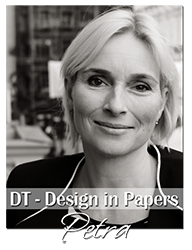 #PaigeEvans #TurnthePage #PinkPaislee #MittKreativaKaos #DESIGNinPAPERS #StampersAnonymous #DinaWakley #TimHoltz #CraftersCompanion #AquaPen #PrimaMarketing