Kan man ha rosa till jul? Självklart säger jag. Härligt med färg på julkort och dekorationer. Här kommer idag ett julkort och en liten dekoration. Båda är målade med den krämiga och pigmentrika färgen Impasto Paint från Prima Marketing.
Pink for Christmas? Of course, I say, here today with the creamy Impasto Paint. I have used it on my card and the decoration.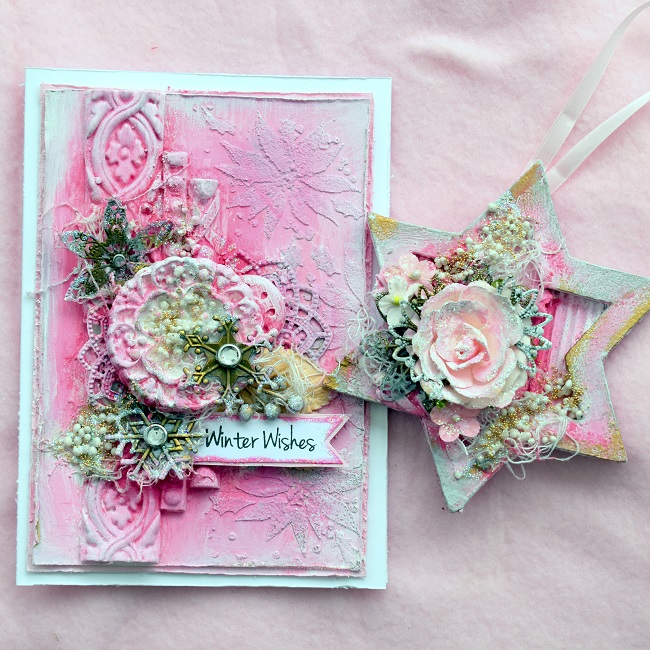 Olika lager bygger upp kortet, i botten en stencil från Tim Holtz, med Nuvo Glimmer Paste. Nu ser man inte det vackra glittret som det ger, men jag gillar den lite skrovliga ytan som pasten ger. Dekorationerna är gjorda med Primas papperslera och tänk vad fantastisk det är hur många gånger man kan använda dessa molds flera gånger för att skapa sina egna dekorationer.
My first layer with a Tim Holtz stencil with Nuvo Glimmer Paste. My decorations are made of Prima Paperclay and molds. So usable to use these molds over and over again.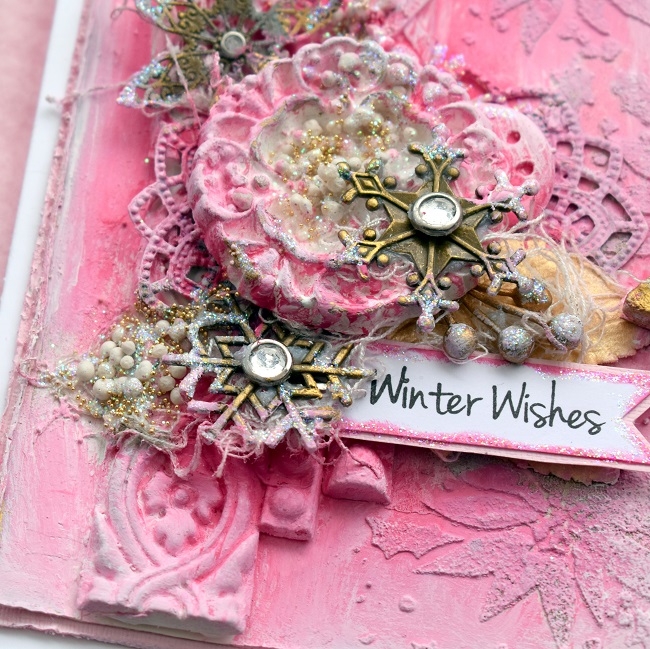 Snöflingor av metall och 3d matte gel för att fästa allt med. Även lite Art Stones och glitter för att skapa lite extra blickfång. Allt är sedan målat med Impasto Paints och även lite Heavy gesso för att skapa lite skiftningar.
Snowflakes embellishment and I have used 3dmatte gel to glue it with. Also some Art Stones and glitter. Then all is painted with Impasto paint and Heavy gesso.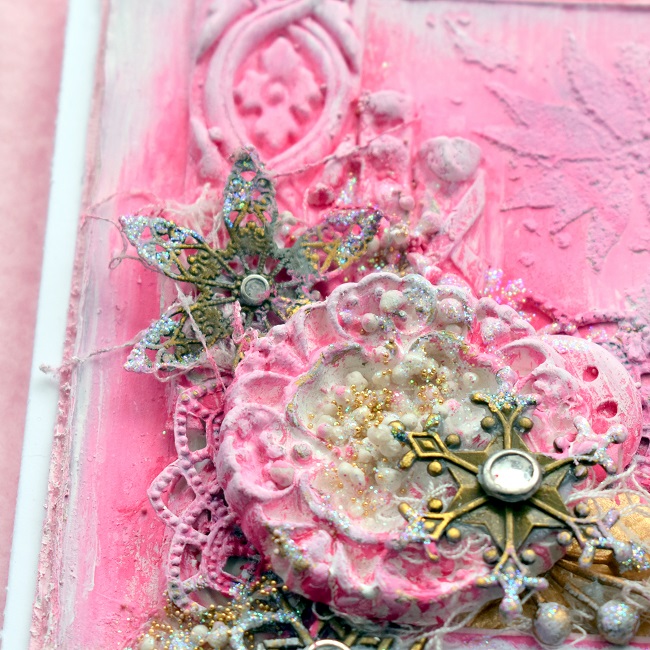 Till kortet så medföljer en liten stjärndekoration. En rosa blomma i fokus.
Have made a small Christmas decoration to receive with the card.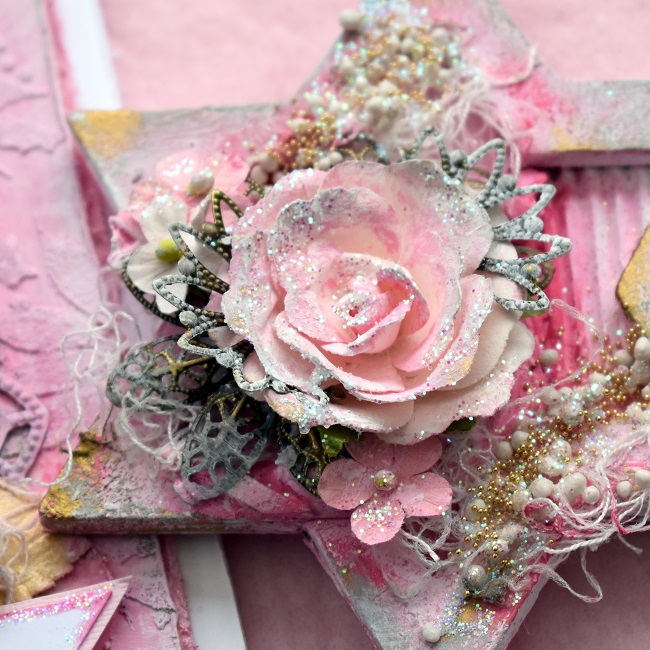 Här syns det tydligt att jag även använt mig av Primas wax.
Some wax on the top of the star.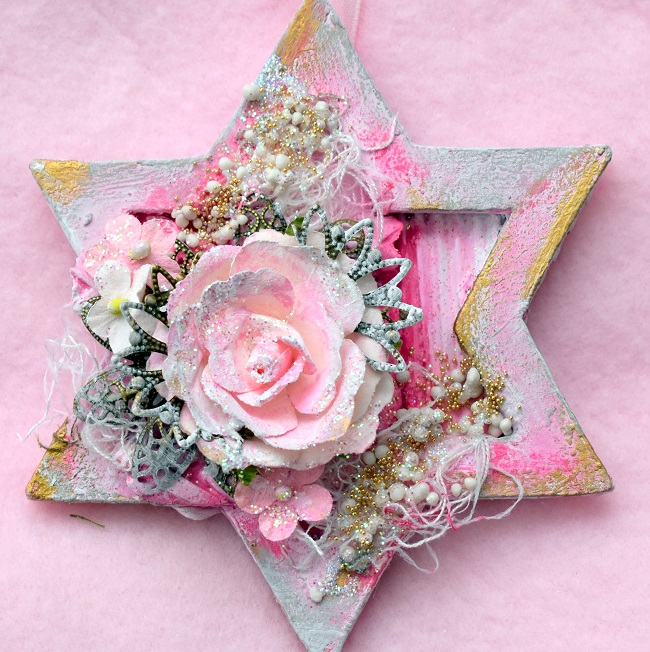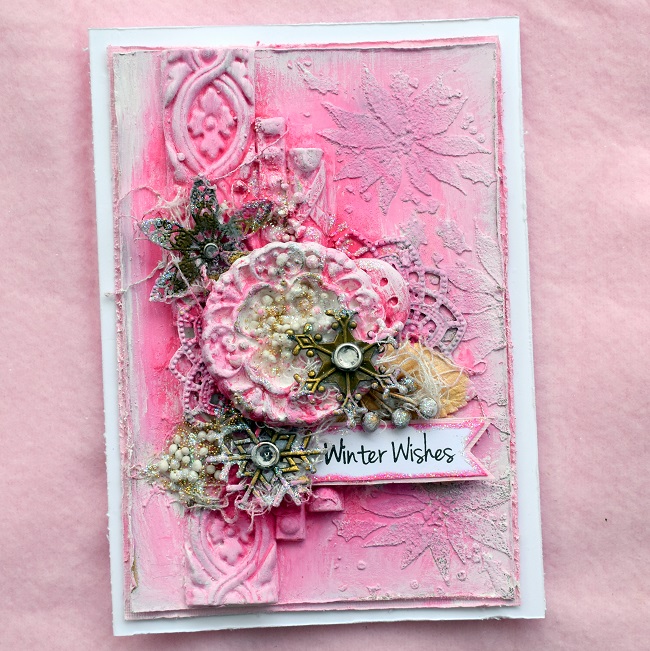 Älskar den här årstiden, finns så mycket man vill pyssla.
Lovely season, so much create!
See you!
Katja
Material:
Prima Finnabair Art Alchemy Impasto Paint 75ml – Raspberry Pink
Prima Finnabair Art Basics Heavy Gesso 250ml – White
Prima Finnabair Art Basics 3D Matte Gel 236ml – Transparent
Prima Finnabair Art Ingredients Art Stones 230ml
Prima Finnabair Art Extravagance Glitter 6g 6/Pkg – Luminous
Prima Iron Orchid Designs Vintage Art Decor Mould 5X8 – Medallions
Prima Iron Orchid Designs Vintage Art Decor Mould 5X8 – Moulding 1
Prima Finnabair Mechanicals Metal Embellishments 16/Pkg – Vintage Snowflakes
Prima Finnabair Mechanicals Metal Embellishments 16/Pkg – Winter Trinkets
Prima Heaven Sent 2 Flowers – Ashby
Prima Finnabair Art Alchemy Metallique Wax 20ml – Aged Brass
Tonic Studios Nuvo Glimmer Paste – Golden Crystal 950N
Bazzill Card Shoppe Heavyweight Cardstock 12X12 25/Pkg – Marshmallow
Stix2 Jumbo Roll of Double Sided Foam Tape 10mm x 3mm x 20meter
Övrigt:
Prima Finnabair Art Ingredients Micro Beads Pollen
InkyWings Motivstämplar
Tim Holtz Layered Stencil 4.125X8.5