If the day is gray you have to make your own rainbow!
I had started this spread in my art journal by just using some left over black paint, and as you can see it was very much deluted so it is more gray in color. In another moment I added the white crackle medium and there it was… just begging for being finished. Inspired by my DT collegue Petra Offrell I swiped down a rainbow of acrylics from Dina Wakley and also painted the paperdoll in the same rainbow colors before I added her on top. The crackle paint splitted the colors up a bit, but it just went as an extra touch for the page so I didn't add more of the rainbow colors.
Om dagen är grå får du göra din egen regnbåge!
Det här uppslaget hade jag påbörjat i min art journal genom att bara smeta på lite överbliven svart färg från nått projekt. Färgen var dessutom rätt utspädd så det blev som du ser ganska grått istället. Någon annanstans på vägen har jag lagt till lite vitt crackle medium, och så låg nu sidan där och bara väntade på att bli färdig. Inspirerad av min DT-kollega Petra Offrell så svepte jag helt sonika en regnbåge av akrylfärg från Dina Wakley över min sida. Jag målade även pappersdockan från Tim Holtz i samma regnbågens färger innan jag satte dit henne. Det lite ruffiga av krackeleringsfärgen bröt upp regnbågen lite och färgen tog slut, men det blev bara som lite extra textur på sidan så jag brydde mig inte om att ha på mer akrylfärg. Så i all sin enkelhet skapade jag min egen regnbåge!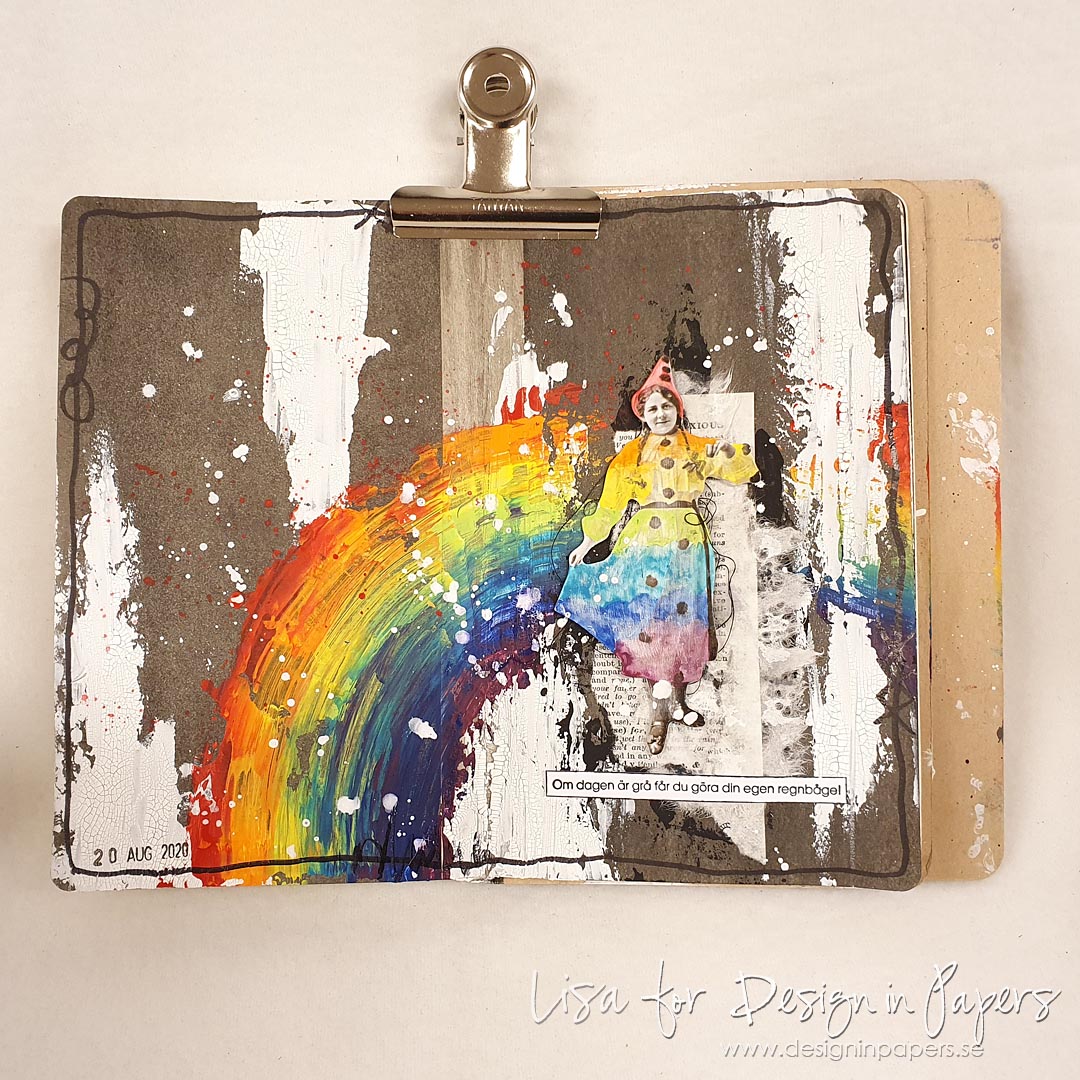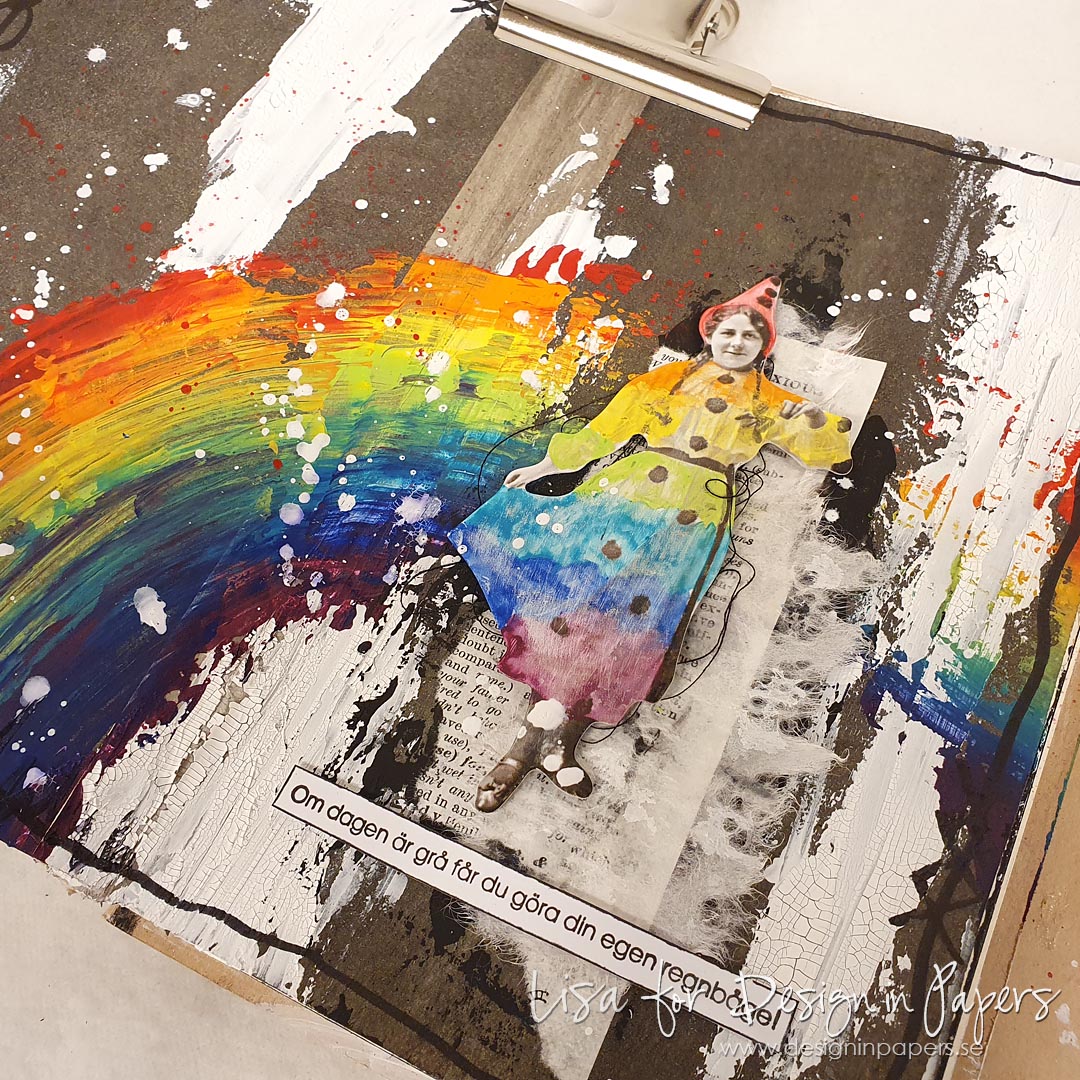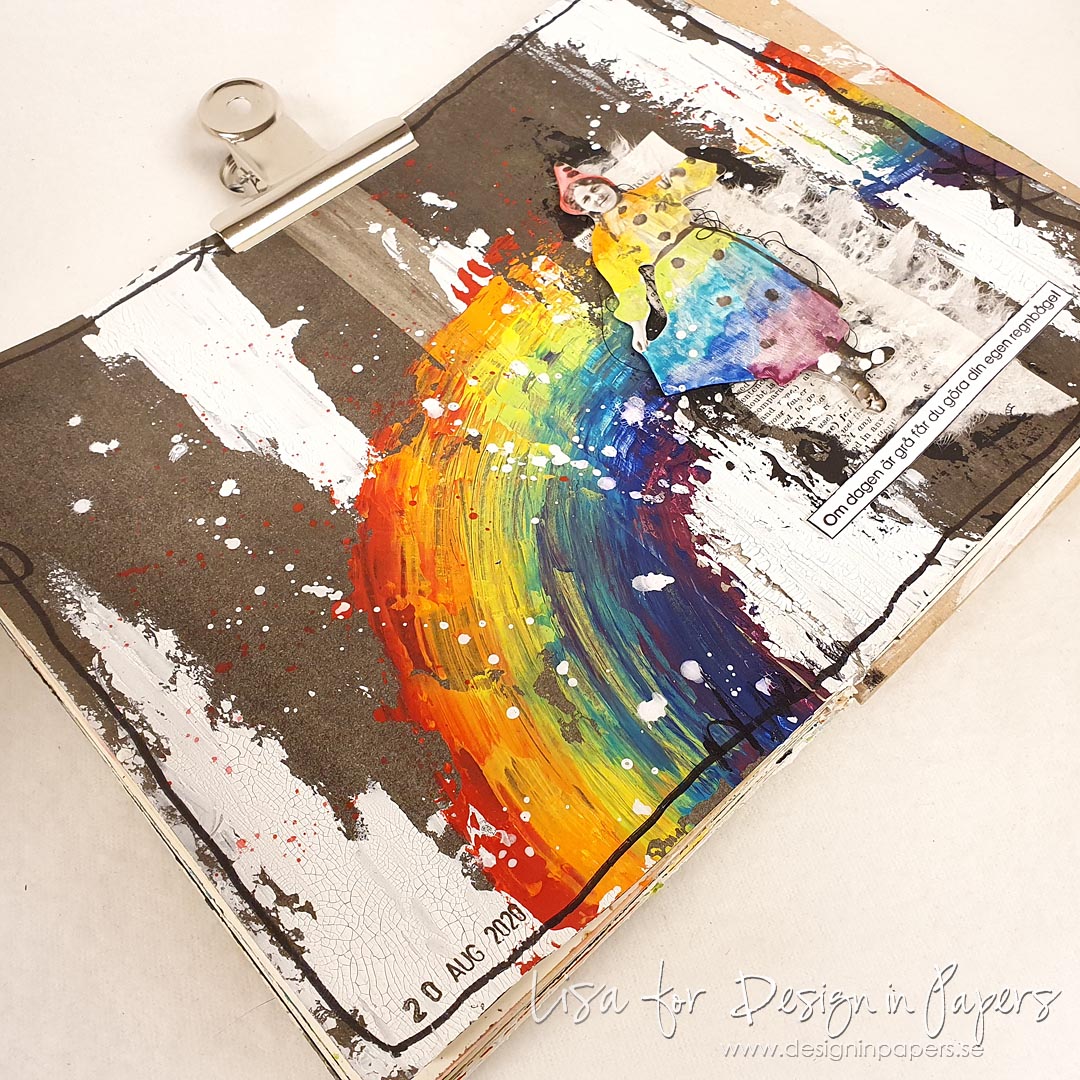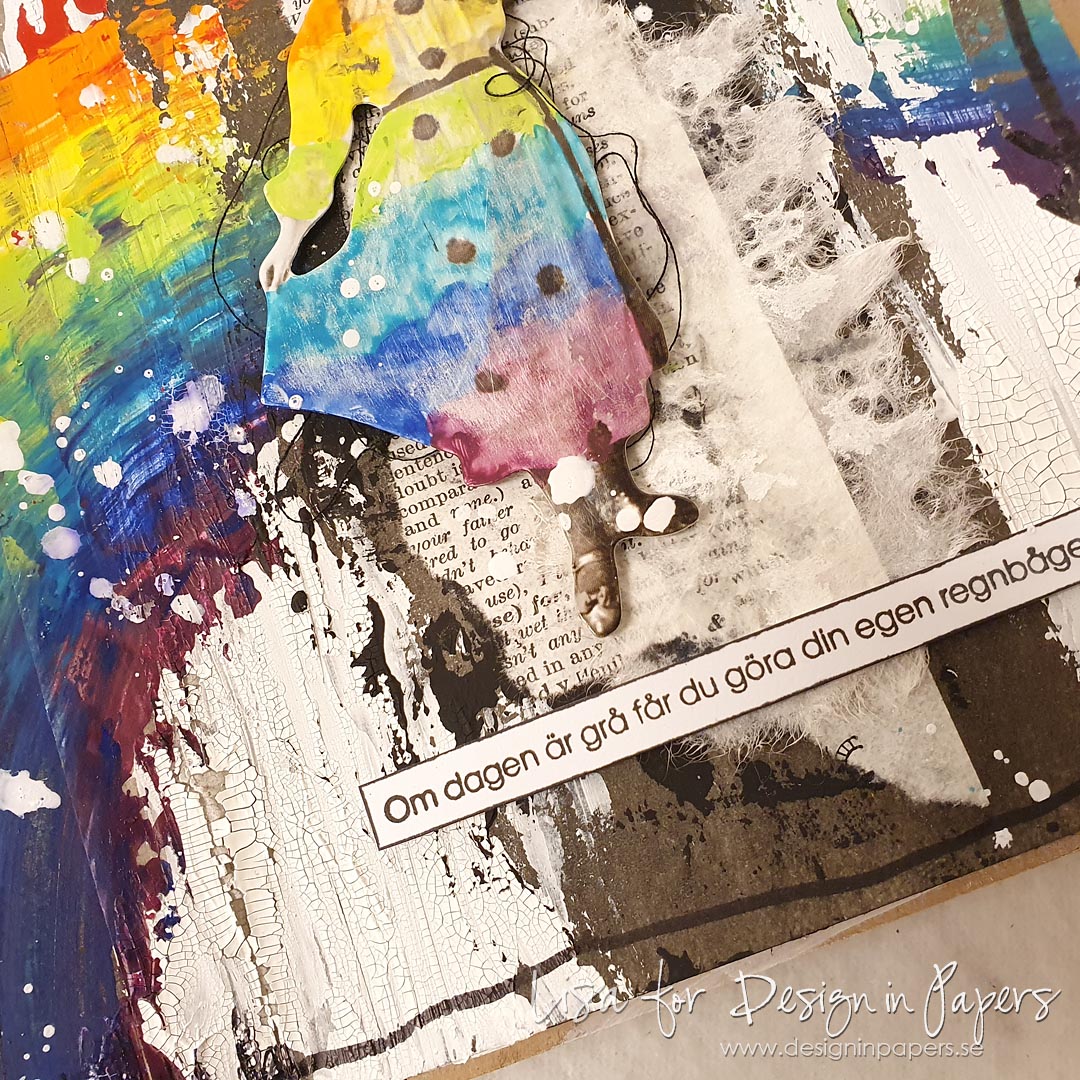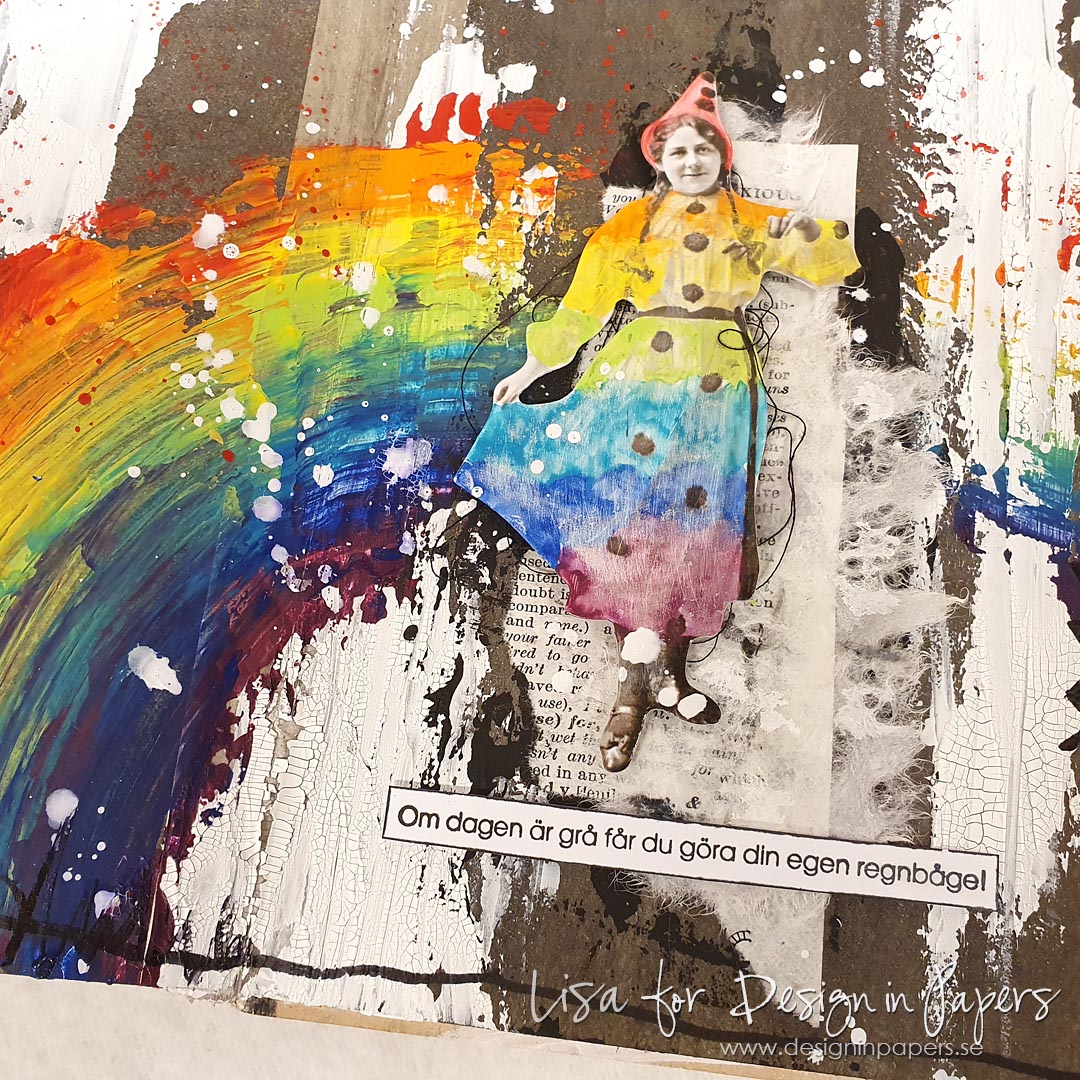 Materials used:
Dylusions Creative Journal Small 5X8
Dina Wakley Acrylic Paint 29ml – Eggplant
Dina Wakley Acrylic Paint 29ml – Lapis
Dina Wakley Acrylic Paint 29ml – Peacock
Dina Wakley Acrylic Paint 29ml – Lime
Dina Wakley Acrylic Paint 29ml – Lemon
Dina Wakley Acrylic Paint 29ml – Tangerine
Dina Wakley Acrylic Paint 29ml – Ruby
Tim Holtz Idea-Ology Paper Dolls Die-Cuts
Prima Finnabair Art Extravagance Texture Paste 250ml – White Crackle
Dina Wakley Media Gloss Spray 56ml – White
Prima Finnabair Art Alchemy Impasto Paint 75ml – Pitch Black
Hugs Lisa