I hope to find you well in the middle of the week. Over here the sunny weather said goodbye and we got lots of rain and very cold weather instead. Hope the summer will be back soon. But lots of time for crafting then, so I don't mind. These ATC was made just before our extreme hot weather though and now it's time to show you. I used up some small tags that I had as leftovers from a Live broadcast I made with Glossy Sprays from Dina Wakley. A great way to not waste color.
For the base I just cut cards in ATC size (2,5″ x 3,5″) and brushed with ink from a distress ink pad over a stencil from Ranger. Then I attached the tags and the sentense sticker.
The backside of the ATC includes my info about the ATC and contact info to myself. Now I can swap these.
Hoppas ni har det bra så här mitt i veckan. Det soliga vädret sa verkligen adjö, och nu är det bara regn och kyla här. Hoppas sommaren återvänder åtminstone en liten stund till. Men men, det blir mer tid till pyssel när det är dåligt väder så jag klagar inte. Dessa ATC gjorde jag precis innan vi fick vår sommarhetta i Juni och nu är det dags att visa dom. Jag har använt mig av några tags som blev över från min Livesändning där jag visade lite olika saker med Glossy Sprayer från Dina Wakley. Ett perfekt sätt att inte slösa färg (gm att plocka upp all överbliven färg med tags). Till basen för mina ATC skar jag till Stamping Card i ATC-storlek (2,5″x3,5″) och borstade över bläck från Distress Ink-dynor genom en stencil från Ranger. Sedan fäste jag tagsen och textstickersen på korten. På baksidan av mina ATC har jag satt fast en liten lapp med info om just den här gruppen ATC-kort och min egen kontaktinfo. Nu kan jag byta dessa.
Om du inte testat att göra ATC tidigare så hoppas jag att du vågar prova – det är superroligt!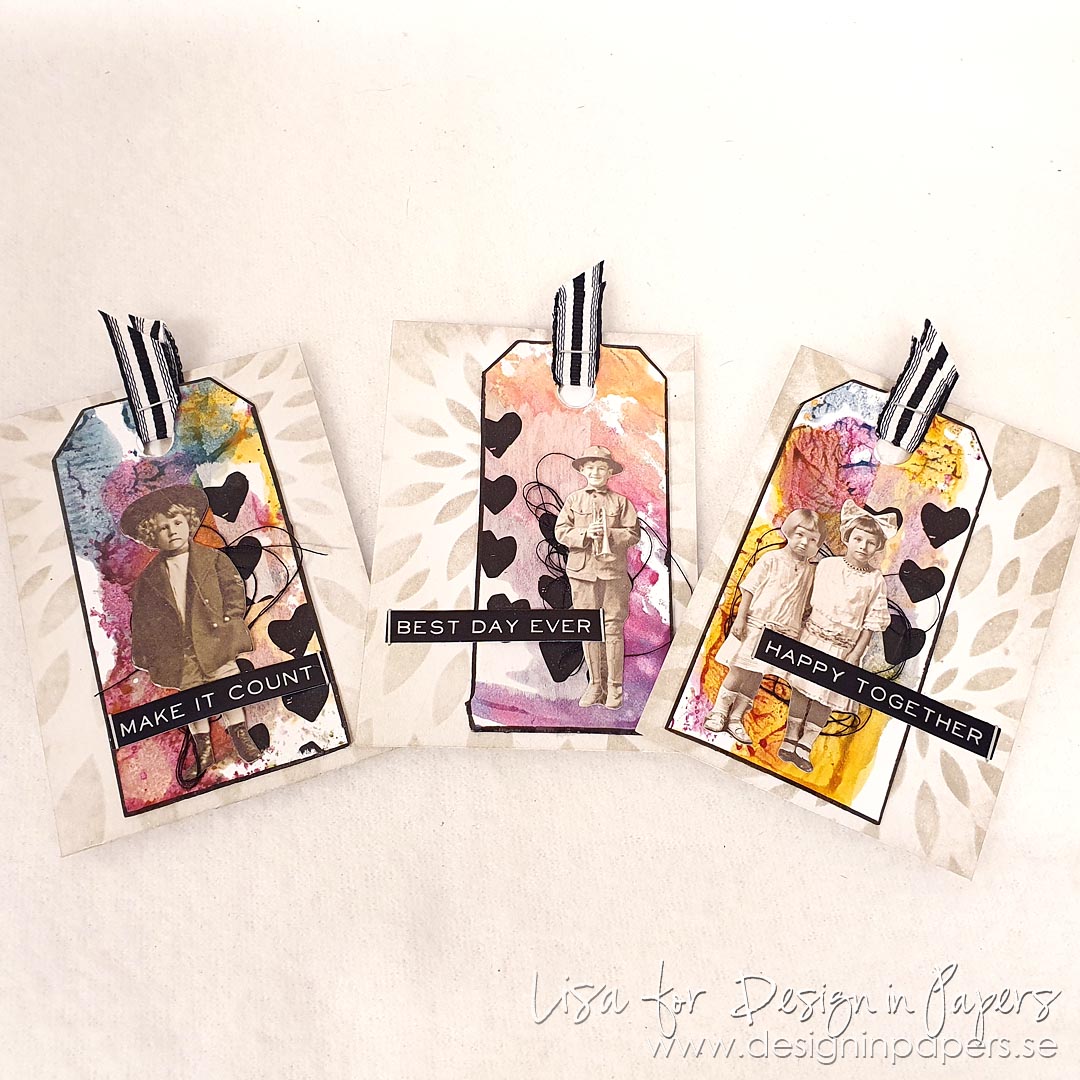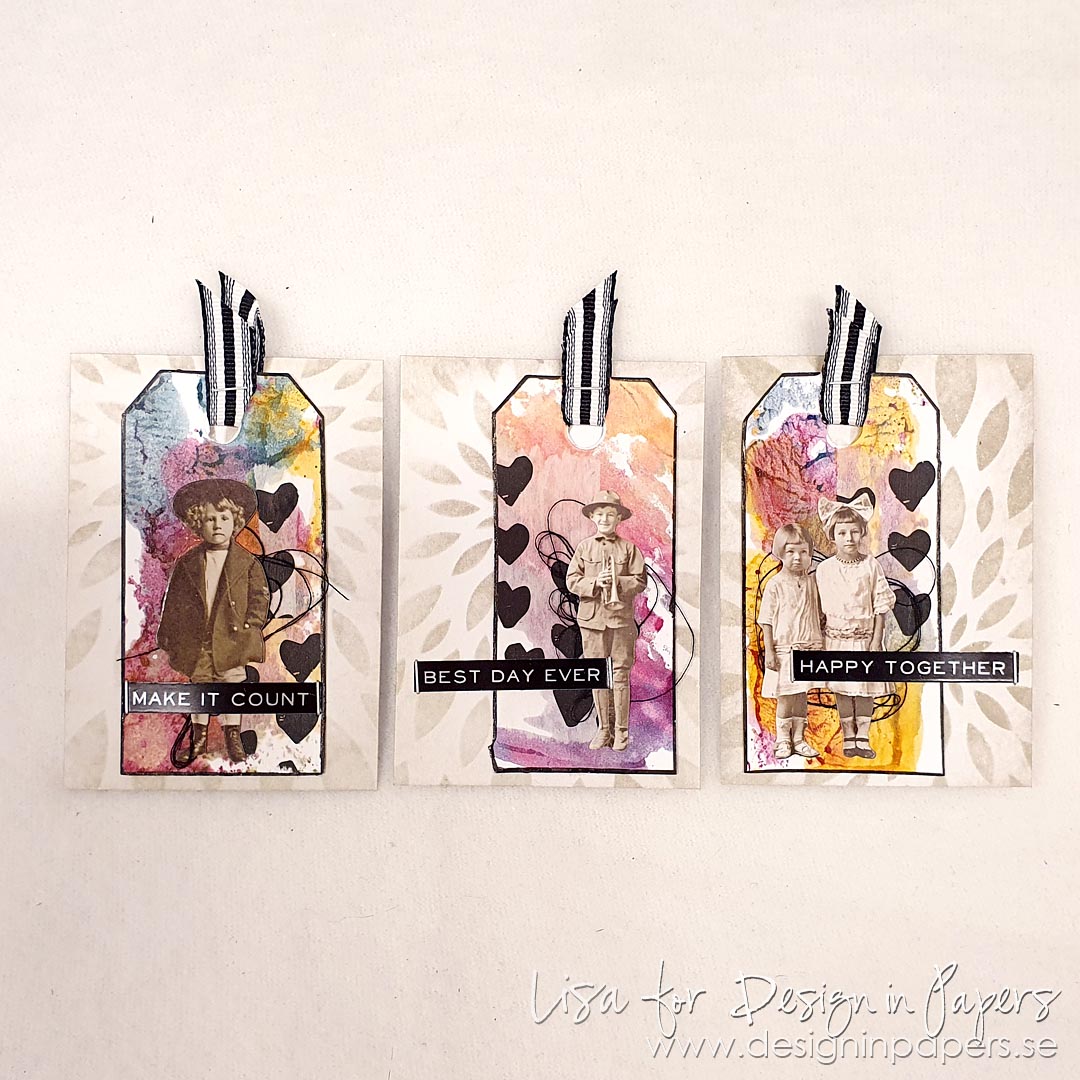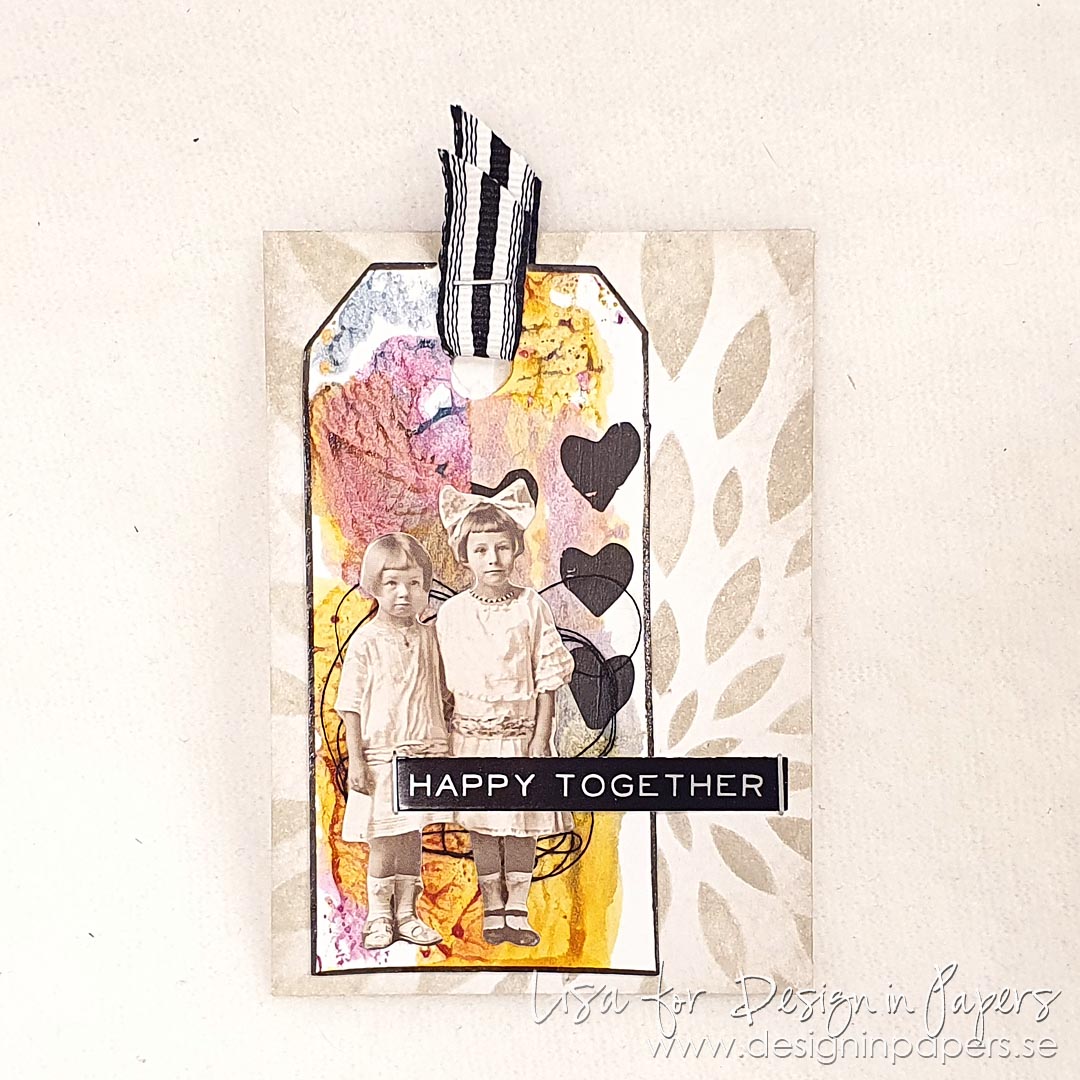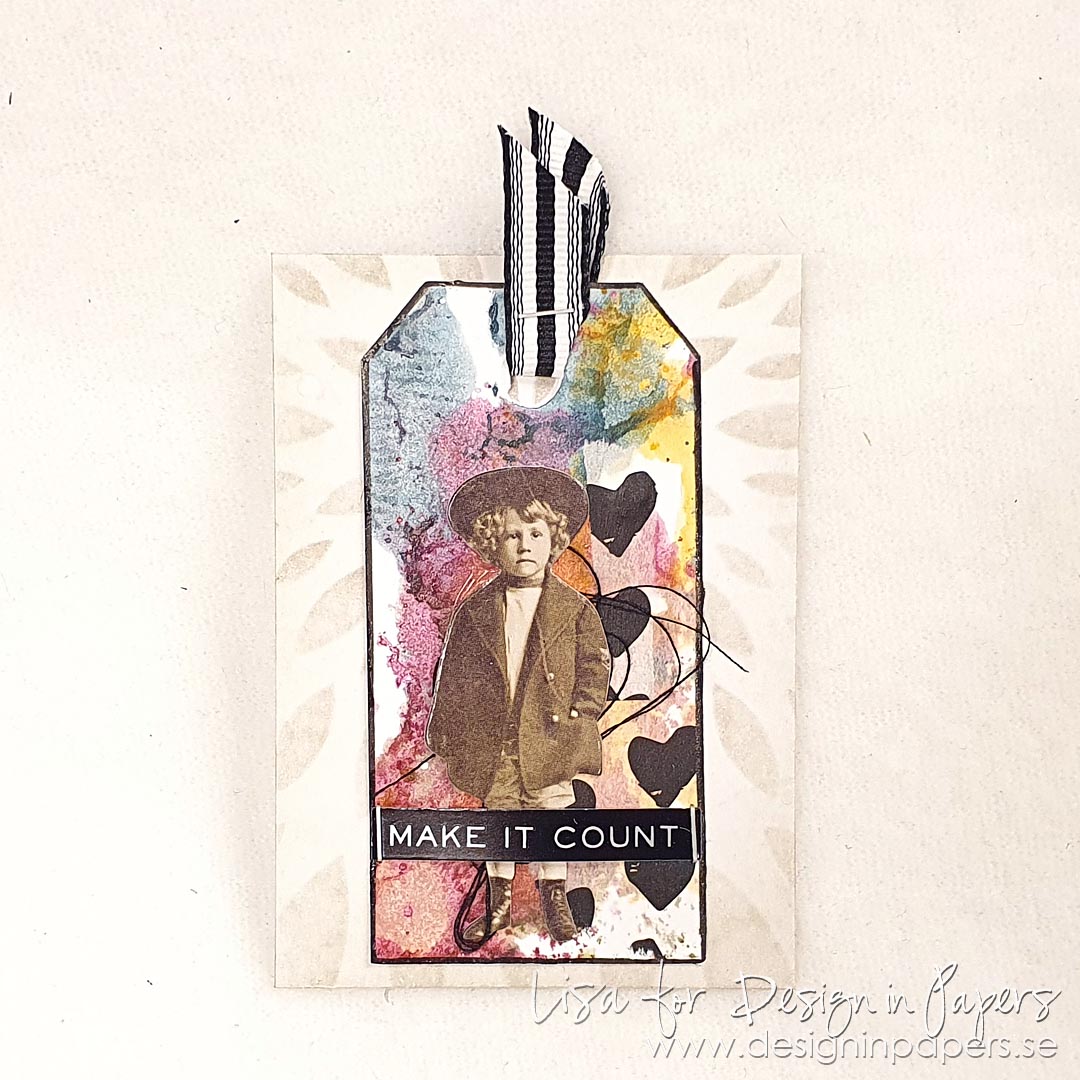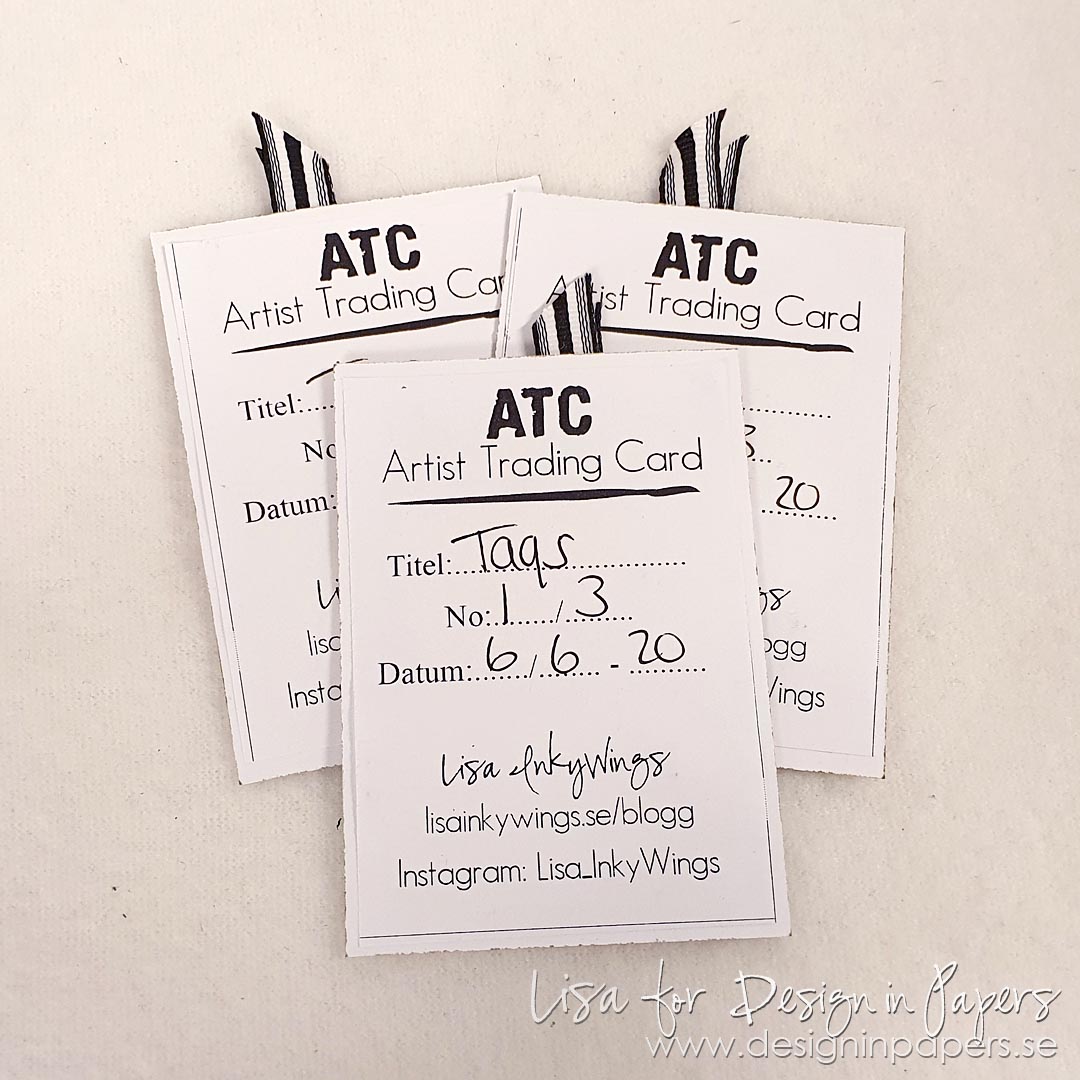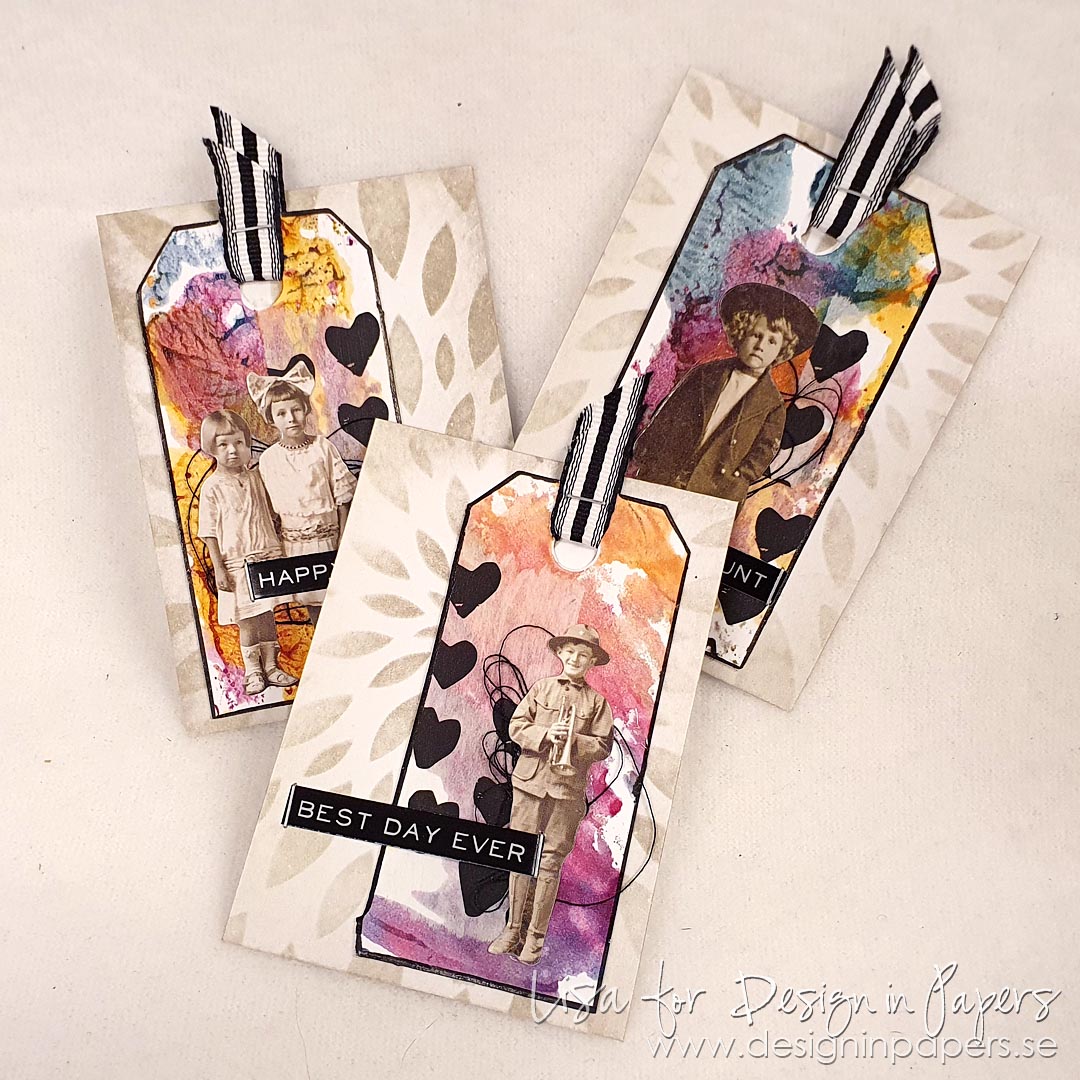 Materials used:
Crafters Companion White Stamping Card 60/Pkg A4
Ranger Letter It Background Stencil 4.75X6 – Flower Burst
Tim Holtz Distress Ink Pad – Pumice Stone
Tonic Studios Nuvo Precision Blender Brushes 2/Pkg 1951N
Tim Holtz Sizzix Framelits Dies 8/Pkg – Tag Collection
Dina Wakley Media Tissue Pack 7.5X10 20/Pkg – Backgrounds
Tim Holtz Idea-0logy Paper Dolls Die-Cuts 107/Pkg – Vintage
Dina Wakley Media Gloss Spray
Tim Holtz Idea-0logy Metallic Stickers 4/Pkg – Quotations Black & White W/Gold
Kram Lisa