Hi lovelies! Anna here again sharing som fun scrappy stuff. This time I've been playing around with a new toy, the Foil Quill Pen and some lovely green Foil Quill. The Foil Quill Pen is made to use with your cutting machine as Silhouette Cameo or any other machine. My image for my card is from the WeRMK USB Artwork Drive by Heidi Swapp. There're a few more to choose by as well.
Hej go' vänner! Anna här igen för att dela lite härligt scrappgodis. Den här gången har jag lekt loss med en ny leksak, en Foil Quill penna och lite härligt grön Foil Quill. Foil Quill pennan är gjord för att användas tillsammans med din digitala skärmaskin som tex Silhouette Cameo eller någon annan kompatibel maskin. Motivet jag använt kommer från WeRMK USB Artwork Drive av Heidi Swapp. Det finns ett antal sådana att välja mellan.
I found a tip on You Tube to shim with a piece of regular cardstock underneath your main paper to get some extra preasure for a even better result.
Jag såg ett tips på You Tube att shimsa med en bit vanlig cardstock under ditt papper som ska folieras för att få lite extra tryck för ett ännu bättre resultat.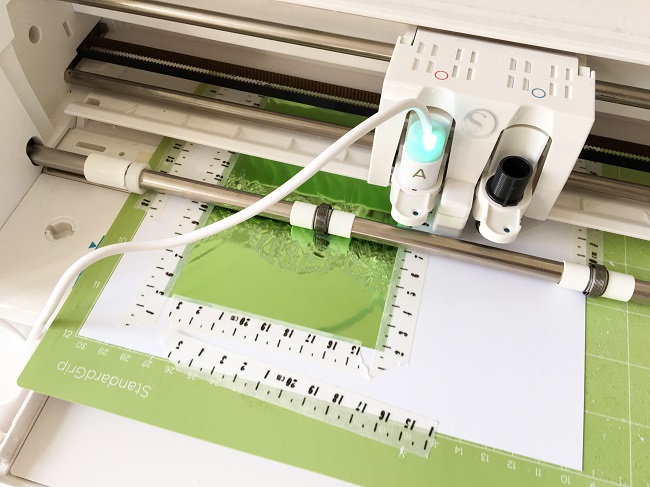 You need to fasten the foil properly and without wrinkles using some tape, There's actually a special tape for this but this time I used regular washi and it did the trick as well.
Du måste se till att fästa folien ordentligt, och utan att den skrynklar sig, med hjälp av tejp. Det finns egentligen en speciell tejp för det här men den här gången använde jag vanlig washi tejp och den gjorde jobbet i alla fall.
This was so exciting! Did it work or not, lol!! Fortunately it worked like a charm!
Detta var så spännande! Funkade det eller inte, haha! Lyckligtvis funkade det alldeles utmärkt!
My sentiment are stickers by Heidi Swapp. They are super pretty!
Texten är klistermärken av Heidi Swapp. Dom är superfina!
And there you have it! Now it's your turn to play around with your scrappy stuff. Hope you got some inspiration here today.
Ja det var väl allt! Nu är det din tur att leka loss med dina scrappgrejer. Hoppas du fick lite inspiration här idag.
Material:
WeRMK Foil Quill – Standard Tip Heat Pen
WeRMK Foil Quill -Heidi Swapp USB Design Drive
WeRMK Foil Quill – 4×6 Heat Activated Foil Sheets "Peacock"
Heidi Swapp Color Fresh Memory Planner Stickers 1042 pc.
Bazzill Cardstock – White
Bazzill Cardstock – Intense Kiwi
Anna xoxo