Jag är en riktigt samlare och sparar mycket av både av förpackningar och annat. Ibland så får man användning av dessa. Här har jag använt mig av en plastförpackning som det har legat metalldekorationer i. Jag ville skapa fynd som skulle se ut som den legat på havsbotten.
I collect many things and here I have used one package to create on. I wanted to create a tag that looked like a finding from the seabed.
Målat med akrylfärg och med rost färger. Det finns ett litet behändigt set med tre färger för att skapa rost effekt. Det finnas även ett set  med Patina färger och här har jag låtit den turkosa färgen från det setet hamna lite här och var.
Have used acrylic paint and also Rust Effect Paste. There is a set of three paste to create the rusty effect. There is also a Patina Effect Paste and here I have used the turquoise color from the set.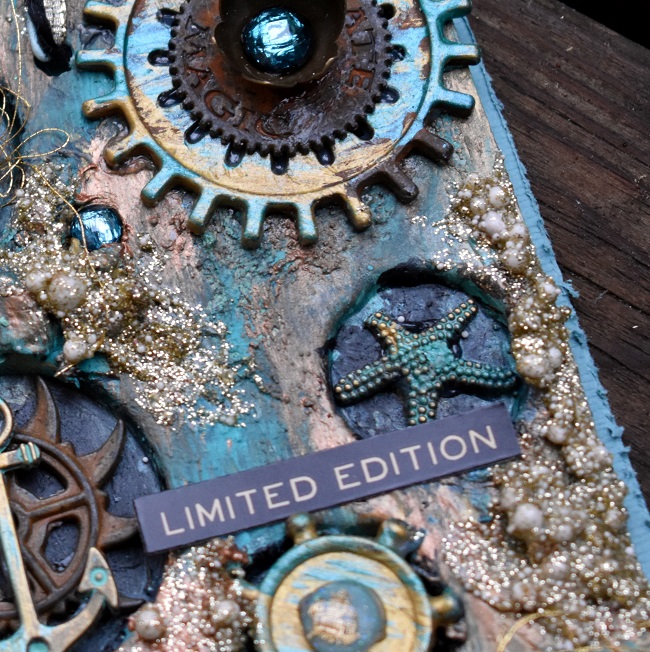 Här har jag även skapat en glitter pasta med Soft Matte gel, Art Stones och med Nuvo Glitter paste.
I have mixed Soft Matte Gel, Art Stones with Glitter Paste to give some extra texture and effect.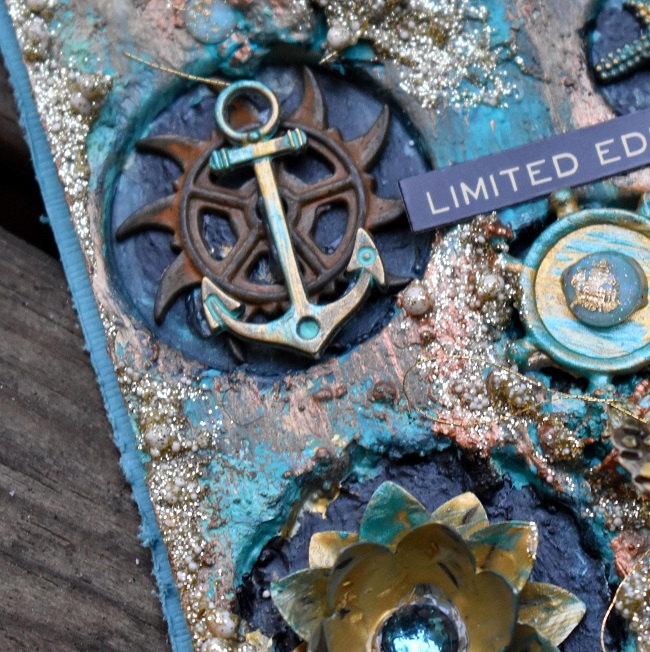 I förpackningens ihåligheter har jag diverse metalliska fynd. Det finns många olika metall dekorationer från Prima/Finnabair och jag älskar dem alla och kan inte få nog av dem.
Have used lot of metallic decorations.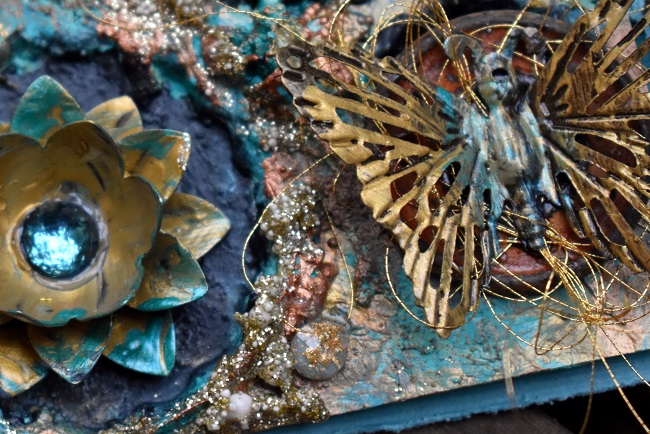 Tack för titten!
Thank you!
Katja
Material:
Prima Finnabair Art Extravagence Rust Paste Set
Prima Finnabair Art Extravagance Patina Effect Paste Set
Prima Finnabair Art Alchemy Acrylic Paint 50ml – Metallique Mermaid Teal
Prima Metal Embellishments 10/Pkg – St. Tropez
Prima Finnabair Mechanicals Metal Embellishments 9/Pkg – Lotus
Prima Finnabair Mechanicals Metal Embellishments 9/Pkg – Grungy Butterflies
Prima Finnabair Mechanicals Metal Embellishments 7/Pkg – Rustic Gears
Prima Say It In Crystal Adhesive Embellishments – St. Tropez
Prima Finnabair Art Basics Heavy Gesso 500ml – Black
Prima Finnabair Art Basics 3D Matte Gel 236ml – Transparent
Prima Finnabair Art Basics Soft Matte Gel 250ml – Transparent Matte
Prima Finnabair Art Ingredients Mini Art Stones 230ml
Prima Finnabair Art Ingredients Art Stones 230ml
Tonic Studios Nuvo Glimmer Paste – Golden Crystal 950N
Övrigt: Guldtråd