Hej! Idag utlovades ännu en ny tag. Har använt Plaster Paste i en stencil och den är slät och mer hård än andra medium. Känns som ett hårdare spackel.
Hi there! Today a tag and here I have used Plaster Paste in a stencil. The paste  are more smooth and strong then other pastes.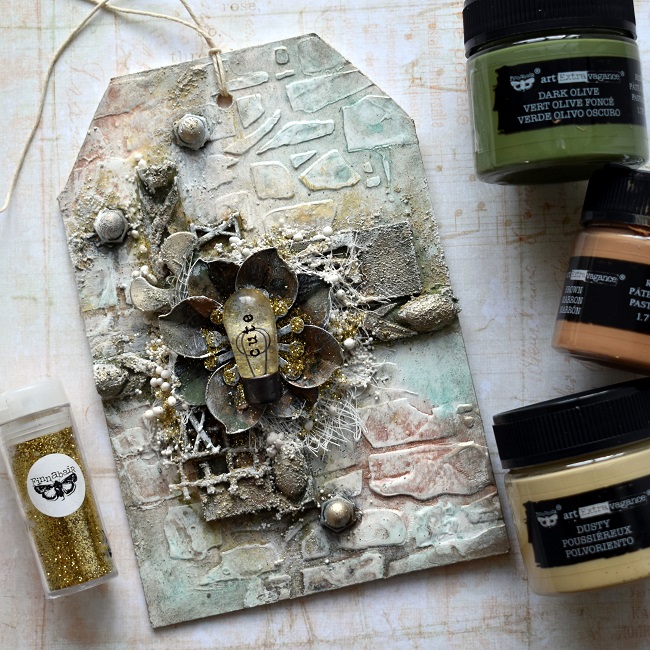 Har använt pasten tillsammans med Rust Effect Paste och här är den i Camoflage färgerna. Nu har jag även sprutat på lite vatten på färgerna så det blev inte så där rostigt som jag hade tanken från början.
Have used the Paste with the Rust Effect Paste in the color Camouflage. Have mixed the colors with water.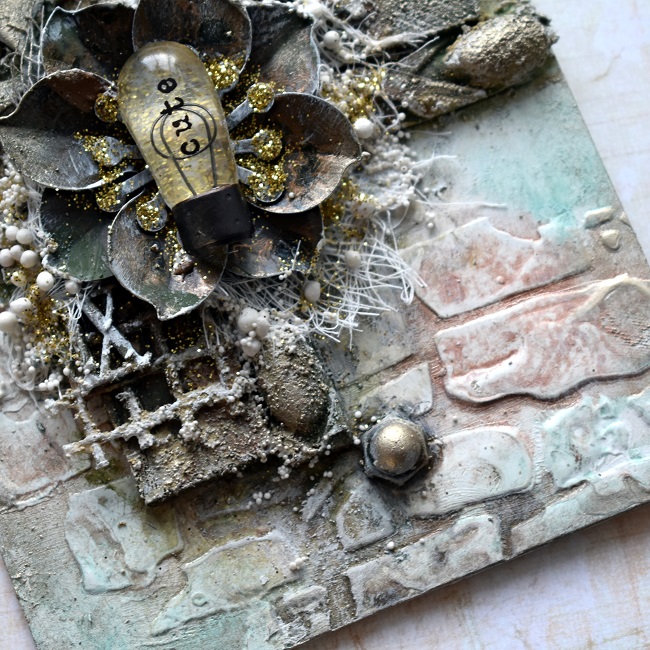 Använt pappersleran från Prima i en form från IOD. Några metalldekorationer, skruvar och romerska siffror som dekorationer.
Paperclay from Prima in a mold from IOP. Also some metallic embellishments.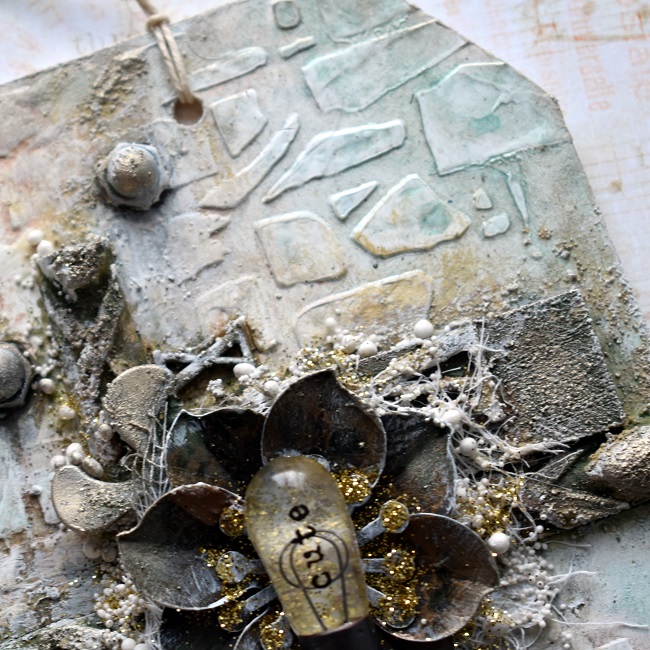 Limmar allt med 3d matte gel och tar med lite Art Stones. När allt torkar så torrborstar jag över allt för att få en matt och finare yta. Strösslar lite gulglitter lite här och var innan det torkar.
I glue everything with 3d matte gel with Art Stones. When its dry I drybrush with gesso and on the top some gold glitter.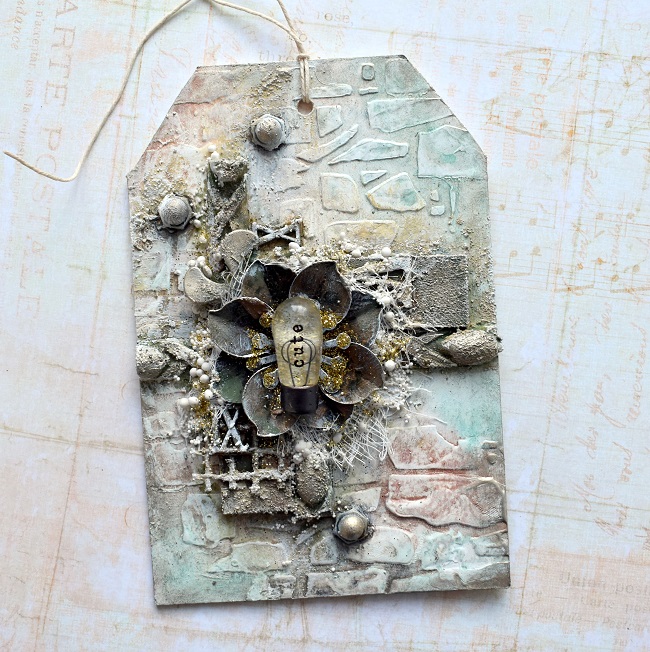 Tack för titten.
Thank you for stopping by!
Katja
Material:
Prima Finnabair Art Extravagance Rust Effect Paste 50ml 3/Pkg – Camouflage
Prima Finnabair Art Basics Sandable Paste 250ml – Heavy
Prima Finnabair Mechanicals Metal Embellishments 9/Pkg – Flowers
Prima Junkyard Findings Vintage Trinkets – Small Typo Bulbs
Prima Finnabair Mechanicals Metal Embellishments 20/Pkg – Mini Hardware
Prima Sunrise Sunset Mechanicals Metal Vintage Trinkets – Mini Roman Numerals
Prima Finnabair Art Ingredients Art Stones 230ml
Prima Finnabair Art Ingredients Mini Art Stones 230ml
Prima Finnabair Art Basics Soft Matte Gel 250ml – Transparent Matte
Prima Iron Orchid Designs Paper Clay 250gr
Prima Iron Orchid Designs Vintage Art Decor Mould 5X8 – Moulding 1
Prima Finnabair Art Basics Heavy Gesso 250ml – White
Prima Finnabair Art Extravagance Glitter 6g 6/Pkg – Luminous
Tim Holtz Layered Stencil 4.125X8.5 – Slate
Övrigt: Ostduk